Huom! Tämä ei ole uusimman tapahtuman sivu. Uusimman tapahtuman sivustolle pääset
tästä
!
Artists' Alley
Desucon also has an Artists' alley where all kinds of artists can sell their own merchandise to other con-goers. We've seen everything from original prints and self-mades, artwork, bookmarks, plushies, shirts, canvas bags... Anything you can think of can be sold here!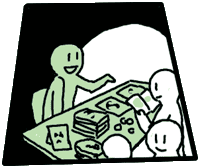 The Artists' Alley is open from 10 to 18 on Saturday and from 8 to 16 on Sunday. The tables cost 15 euros per day, and there are different sellers on the Alley each day.


Enrolment for the Artists' Alley
There is a portfolio enrolment for the Artists' Alley. Contact our Artist's Alley Manager for more info at taidekuja@desucon.fi.
Got any questions?
You can always contact the Artist's Alley Manager

Milla "Suiggari" Huhmarkangas, suiggari@desucon.fi or Suiggari in IRCNet.